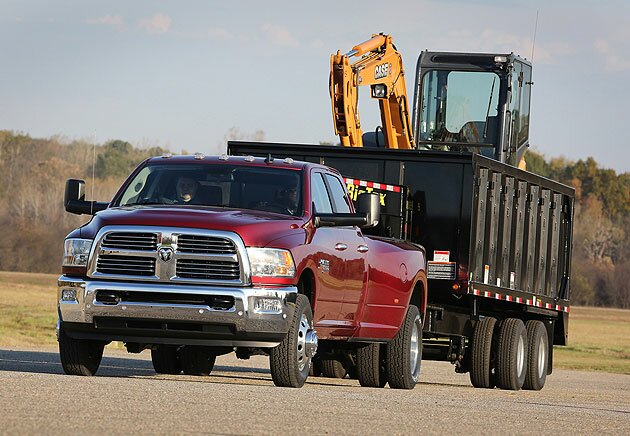 The year 2019 is going to bring us some serious updates when it comes to Ram trucks. Besides new cab configurations and bed lengths, you can expect some new powertrain options under the hood, including the new diesel engine. We believe that the fans of heavy-duty trucks will be satisfied with what Dodge has been preparing for its 2019 4500-5500 models this time.

Exterior
The new Ram will offer two models for the upcoming generation of the heavy-duty trucks – Ram 4500 and 5500. They will appear with significantly improved towing ability and hauling. When it comes to exterior design, you should not expect some drastic changes. In fact, these Ram models will pretty much resemble their smaller cousins from this series of trucks such as 2500 and 3500. The greatest change can perhaps be noticed in the front fascia where the bumper will be updated as well as the wider and massive fenders. The air dam with the heavy-duty towing hooks will be refreshed as well and these features will give the trucks more of a rugged and powerful look. As far as we have been informed, the 2019 4500 and 5500 will be available in three bed lengths and two cab configurations – a regular cab and a crew cab.


Interior
The heavy-duty trucks such as Ram 4500 and 5500 have been known for their great towing ability and their adjustment to all kinds of working conditions. You are probably used to a much simpler cabin, with the focus on being functional rather than looking good. Well, this time the thing will change inside these two 2019 models. They will get more elegant and luxurious cabin which will as well be ultimately comfortable and use high-quality materials. It is true that the interior will resemble the one seen in smaller trucks such as 1500, 2500 and 3500, but there will be some significant improvements. The seats will be covered in leather and electronically adjustable. The driver will also get more storage space. Technology will be upgraded as well so you can expect a 7.0-inch TFT display with numerous modern options and apps, including the navigation system.
Engine
When it comes to engine that these two beasts will be hiding under their hoods, you can expect an ultimate power. According to the information our team has got, the 2019 Ram 4500 could come with a 6.4-liter V8 engine that would be able to deliver up to 410 horsepower and 429 pound-feet of torque. It will be mated to a six-speed automatic transmission. The 2019 5500 could use a new 6.7-liter Cummins turbo-diesel engine that mated to a six-speed automatic transmission could hit up to 325 horsepower and 750 pound-feet of torque.


2019 Ram 4500-5500
The release date of the 2019 Ram 4500-5500 has not been confirmed yet, but they should probably be expected sometime in 2018. The estimated price range of these models starts around $34,620 – $35,720 before options.
Incoming SUV and Trucks Search: