2015 Ford F-450 belongs to a family of heavy duty pickup trucks. Improved powertrain due to a larger turbocharger, adjustments performed on mechanics and impressive towing capacity (fifth wheel towing capacity of 26,500 pounds gooseneck trailer capacity up to 31,200 pounds and gross combined weight rating to a 40,000 pounds) make this vehicle worth taking into consideration.
Exterior and Interior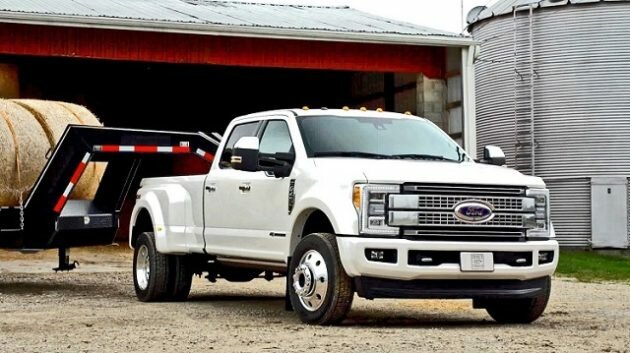 2015 Ford F-450 will not significantly differ from other Ford F trucks in the same generation, as far as exterior designed is concerned. There are three cabin configurations available-regular cabs, extended cab (SuperCab) and crew cab. The bed length depends on a cab type. Regular cab lies on an 8-foot cargo bed, while extended and crew cab models can have a 6.75- or an 8-foot bed. Some of the external features that can be integrated in F-450 are PowerScope towing mirrors, tubular side steps or running boards, or even power moon roof in higher trim levels. Wheels diameter is 19.5-inches.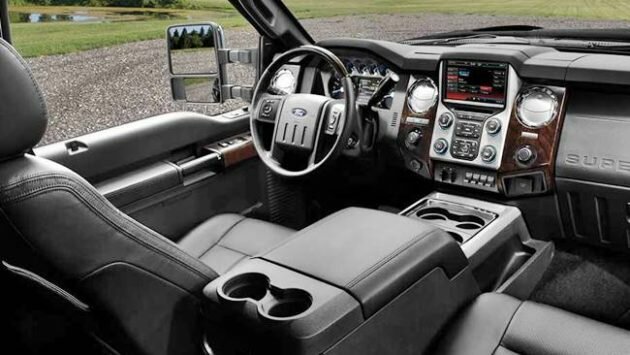 Interior of Ford F-450 cabins gives immediate impression of luxury and comfort, despite bulky exterior. Beside soft-touch materials, there are some additional features that makes ride in this heavy duty truck quite comfortable (air conditioning system, heated and cooled front seats with driver-side memory feature). Beside 4.2-inch instrumental screen with necessary information about fuel economy and towing, there is also navigation system with SiriusXM Travel Link, infotainment system with latest high tech gadgets. Safety features include electronic stability system with Roll Stability Control (in single rear wheel models),trailer-sway control, airbags, all-disc antilock brakes, rear parking sensors, and backup camera, to name some of the few.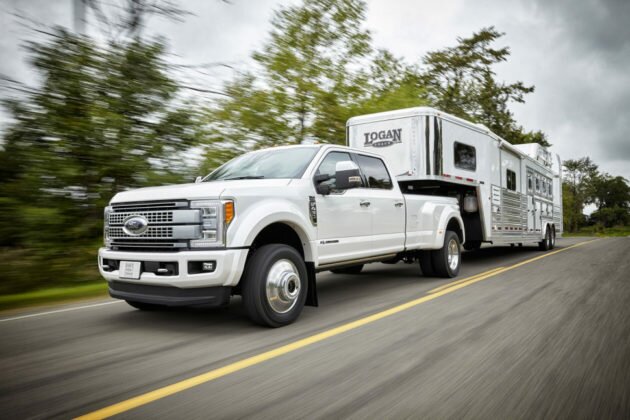 Engine
Engine of the 2015 Ford F-450 can be powered either with a diesel or petrol. First, there is a second generation of a turbo-diesel Power Stroke® V-8 paired to a six-speed automatic. This engine is considered to be best-in-class of engines which can deliver 440 hp and 860 lb-ft of torque. Its references in terms of fuel economy are also remarkable. This motor is also B20 capable. The power of 440 hp is responsible for the fact that the towing capacity of 2015 Ford F-450 is 19,000 pounds in case of conventional trailer; fifth wheel/gooseneck trailer has maximum towing weight of 31,200 pounds. GCWR (gross combined weight rating) is estimated to be 40,000 pounds, but with a payload of only 5,450 pounds.
The other engine available for Ford F-450 is petrol powered 6.2 liter V8. That one can pump out 385 hp. It is available as both RWD and AWD and mated to a six-speed TorqShift automatic transmission.
2015 Ford F-450 Release Date and Price
New 2015 Ford F-450 was released in Spring 2015. The price of a base model starts at around $87,000 and it reaches about $100,000 in highest trim levels.