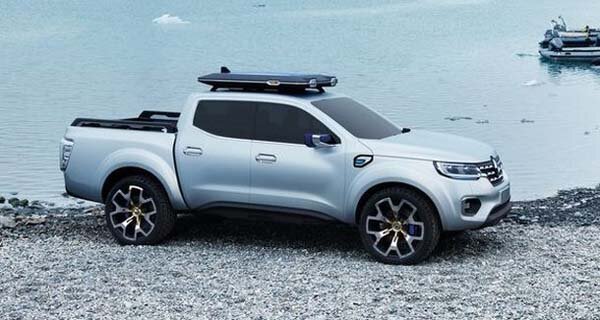 The market of pickup trucks will definitely get a lot of redesigned models in the upcoming year. This time, the news is coming from the well-known French carmaker that has been planning its new Alaskan truck to make a debut as a 2019 model. The Renault Alaskan will undergo some minor improvements in terms of style and it will offer only one option under its hood, but powerful enough for either your off-road adventures or long family rides.
Exterior

Actually, the Alaskan pickup truck is a result of the perfect collaboration between the French and the Japanese carmaker – Renault and Nissan. Well, it has been obvious that the 2019 Alaskan will get some French style when it comes to its exterior design, but also the power and durability found in the Nissan models. The new Alaskan has been often compared to the Nissan Frontier in terms of exterior styling, but mostly referring to some rear part features that strongly resemble. All in all, although this truck has been known for its muscular and rugged looks, this time it will also appear stylish and elegant. In the front fascia you will notice a large bold grille. It has been said that the grille and the fog lights on this model have been similar to those found on the Koleos model. You will also find C-shaped headlights with LED daytime running lights. The new Alaskan will be standing on either 16 or 18-inch alloy wheels, depending on the trim and equipment you choose.
Interior


The interior of the 2019 Renault Alaskan will provide a modern and functional cabin. It will also be very spacious so even in the rear seats things will not get cramped. The front seats will be heated and adjustable in six to eight ways. The cabin of the new Alaskan strongly resembles the one seen inside the Navara. The fans should also expect some better-quality materials, more elegant details and numerous technological updates. The driver will get a modern dashboard and a larger touch-screen display in the center console, at least in higher trims. You will get numerous next-generation options including the USB port, wireless charging and automatic climate control. Safety systems and driver assist features will be provided as well.
Engine
As we have already mentioned, the 2019 Renault Alaskan will offer only one diesel engine option under its hood. It will be a 2.3-liter twin-turbocharged engine that will be available in two versions – with either 157 or 190 horsepower. The engine should be mated to either a six-speed manual or a seven-speed automatic transmission.

2019 Renault Alaskan Release Date and Price
The release date of the 2019 Renault Alaskan has not been confirmed yet, but it should probably be released sometime in early 2018. The estimated price of the new Alaskan starts around $30,000 or less.